Posts from June, 2016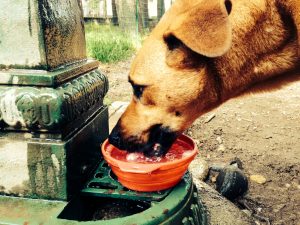 Bonding in the great outdoors is one of the best parts of pet ownership. Whether you're heading out for a hike on the St. Joseph's Hill trail or just playing in the yard, you and your pet can enjoy the beautiful summer weather safely by being prepared.
Keep our summer pet safety tips in mind before you and your pet head out for your next adventure.
Paw Care
Your dog's paw pads are more sensitive than they appear, and hot pavement or concrete can often be too hot for them to safely walk on. A good rule of thumb is: if it's too hot for your bare feet, it's too hot for your dog's. Find grassy and/or shaded areas to walk your pooch, or limit walks to early morning and evening hours when life's just a little cooler. Continue…
Advancements in veterinary medicine have helped to increase longevity and enhance the quality of life of cats, dogs, and other animal companions. And, when it comes to our geriatric fur pals, one of the best ways we can keep them at their healthiest – while slowing down some of the impact of aging – is through senior wellness pet care.
When is my pet considered a senior?
As you may know, our pets age much more rapidly than we do. One year doesn't seem like a long time to us, but it comprises a significant portion of the life of a four-legged companion. Continue…
Wellness
At The Whole Pet Vet, we are committed to maintaining your pet's health at every age.
Learn More
We Have Your Pet's Whole Health Covered