We're Hiring!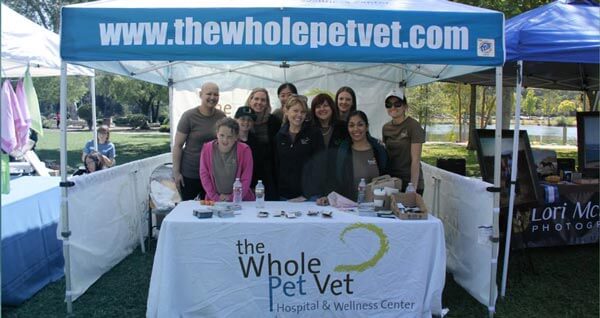 Compensation: Compensation is commensurate with experience.
Employment type: This is a full-time position.
Job Summary for Registered Veterinary Technician, RVT
Looking to join a close-knit team of veterinary professionals in a small, thriving practice? Looking for humane hours, an energizing environment and great benefits? Looking to use your amazing skills in a wide variety of ways? Consider applying to our open position now! Our hospital integrates traditional Western veterinary medicine and holistic, herbal and more. We schedule surgery 2-3 days a week for you surgical technicians out there to shine. Dentistry is a large part of our practice and we will train you if, needed to clean teeth, and take beautiful radiographs.
Our clients love us and expect the best in care, customer service, technical skills and compassion. We strive to make every visit to our hospital a great one for animals and clients alike and our technicians are a huge part of this picture. Every employee makes a valuable difference.
We are currently looking for a Registered Veterinary Technician to join our team. We have openings for both full-time and part time RVT's.
We specialize in creating a low stress visit for all animals and welcome you cat and dog whisperers! We will also train you to become even more awesome at these vital skills.
Some of the other skills you will perform include: taking histories, IV catheter placement, blood draws, restraint, bandaging, radiographs, dental prophylaxis, surgical prep, anesthetic monitoring and occasional emergency triage and treatment. Compassion is an essential skill and greatly valued by staff, clients and patients alike.
We value our employees with calm personalities who can work together to face whatever the day holds in store for us!
We have all major holidays off, each RVT works about one Saturday (we are open 9a to 1p the first and third Saturdays of the month) per month and we are closed on Sundays. The only exception is inventory, two Sundays per year. We work a 4/10 workweek for continuity of care and your mental health! We are located in gorgeous Los Gatos which makes for rejuvenating lunchtime walks.
Responsibilities and Duties of RVT's
Must be able to maintain confidentiality regarding patient status/treatment, client information and other sensitive clinic operations.
Must be able to work collectively within the team in scheduling and helping to manage medical cases.
Perform and prioritize comprehensive medical history taking on new and returning patients.
Assisting Veterinarians with appointments and surgery.
Perform solely or in conjunction with a senior technician and/or
Veterinarian procedures including: IV catheter placement, blood draws, patient restraint, bandaging, radiographs, dental prophylaxis, surgical prep, anesthetic monitoring, etc.
Provide medical care for animals that may have significant behavioral issues, which can include but is not limited to shyness, fearfulness and aggression.
Some Saturdays required.
Qualifications and Skills of RVT's
Excellent communication skills with clients and team members
Ability to remain calm and efficient in a fast paced environment
Experience with or ability to learn Microsoft Word and Excel, Google
Calendar, Docs and email
Experience with Avimark PMS a plus!
Must be able to bend, stoop, walk, kneel and lift
Benefits Available to full time RVT's
Medical, Dental and Vision insurance
Pet care discount
Retirement Plan
Continuing Education Stipend
Uniform Stipend.
If you would like to be considered for this position, please send your resume and cover letter to drwheeler@thewholepetvet.com.
Staff
Hospital Tour
Testimonials
We Have Your Pet's Whole Health Covered