Testimonials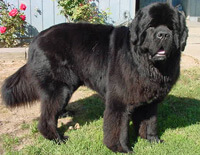 Dewey is a 9 year old Newfoundland that weights 145lbs. He is a retired show dog that has moved beautifully until 2 months ago when arthritis in his spine and left hip caught up with him. Almost over night he had great difficulty getting up, had a significant limp and was panting a lot due to pain. I immediately got him on some pain medication and scheduled him for several acupuncture treatments. There was some improvement after his first session, by the second he was walking without a noticeable limp and feeling much better. After 4 treatments, he has no problem getting up, no limp, is trotting around the yard and going for beach walks. It has improved the quality of his life 100%, and he is his old self again. As my last three older Newfies each received acupuncture treatments and it improved their mobility and over quality of life. I absolutely believe that it can help most dogs as I have personally seen its benefits. Dewey will continue treatment as needed until he tells me it is time for him to go.
– Joyce Taylor
---
Atlas is a 1.5 years old Samoyed. When he was 7 months old, he broke his hip at the doggy daycare. Dr Wheeler was instrumental in finding the cause of his limping and provided referral to the best surgeon in the Bay Area. After the surgery, Dr Wheeler guided me on helping Atlas recover quickly as he was still going through his challenging puppy phases. The acupuncture sessions, coupled with the physical therapy sessions, really helped Atlas to recover his agility and full use of the leg. He now jumps, runs and plays like any young dog. Dr Wheeler's expertise and love for animals shows at each visit - above and beyond any other veterinarian in the Bay Area.
– Julien S
---
Dr. Hilary Wheeler is the owner/veterinarian at this new hospital in downtown Los Gatos. I am so excited she has opened her own practice! In 2006, my vet told me that my 12 year-old lab Roxy had only a few months to live - kidney failure - so I shouldn't treat her problems with her spine, caused by years of frisbee chasing. My husband and I were devastated. So I asked Dr Wheeler for a second opinion. Dr Wheeler found that Roxy had a bladder infection, something she wasn't even tested for at the other vet. Dr Wheeler treated the infection with antibiotics, and treated Roxy's spine issues with acupuncture. We were SO lucky that we had 2 more years with our Roxy, and that her last years were more comfortable due to Dr. Wheeler's treatments. I only trust my dogs' health to Dr Wheeler.
– Diane Androvich
---
The Whole Pet Vet offers the perfect blend of science and heart--from the doctors, including the incomparable Dr. Hilary, caring, and extremely knowledgeable.
I know this first-hand because my sweet girl, Coquette, a German shepherd/husky mix of 6 years, recently appeared destined to die, she couldn't even get up. The Whole Pet Vet had been recommended to me by a renowned dog breeder. Within 3 weeks Coquette was up and about. When other vets wanted me to give up on her or get $6,000 to $10,000 treatments, these fine folks were able to pull my sweet girl through. Miracles can happen, especially when you've got The Whole Pet Vet working their magic to help make that miracle happen.
Their combination of using Western and Eastern medicine is a no-brainer. What a terrific concept! With this, I know that no stone has been unturned and I have a complete and expansive source of healing options through The Whole Pet Vet's open attitude towards information and knowledge from every viable source.
To everyone at Whole Pet Vet, I want to say thank you for saving this one little life... that means so much to me.
– Carmen R
---
I met Dr. Wheeler when my dog Maggie had been living with liver cancer for three years, two and half years longer than expected by standard veterinarian prognosis. Maggie had been treated with herbal supplements for her cancer and she had come to live a quality life with her liver cancer. During her last six months, Maggie had difficulty walking. Because she was part German Shepherd we naturally thought it was hip dysplasia. Dr. Wheeler convinced us to have her x-rayed. When we did, we found out her true issues: the liver tumors had grown and were pushing up on her spine so she couldn't walk. Because of her weak liver, Maggie could not tolerate drugs. We decided to try acupuncture to alleviate her pain in order to give her back her dignity of walking. With regular weekly and bi-weekly acupuncture treatments, Maggie was able to enjoy her walks, pain free, with dignity, up until her last day with us. Dr. Wheeler often referred to Maggie as her "rough-tough-cream-puff" and Maggie enjoyed her visits with Dr. Wheeler. We'll always cherish what Dr. Wheeler was able to give our beloved family member.
Today, I'm using Dr. Wheeler to help treat pain in my young Siberian's hip dysplasia. It's a useful tool for after her physical therapy. My dog Juno, LOVES it and really chills out. She's sensitive in her painful areas but overall it reduces inflammation and keeps her strong so she can play like a normal 2 year old dog!
– Julie Starling
---
As the Owner of 3 dog hotels across the country, I come across a lot of vets, so I know quality care when I see it. Having that personal relationship with my vet is very important to me. When I first met with Dr. Wheeler, I immediately knew that this is where I wanted to take my pets. I love Dr. Wheeler's emphasis on holistic treatments, but more importantly, it is evident that they care . They listen . Their facility is new, and they have all of the latest equipment. They will give you a tour and everything is in pristine condition.

I took one of my Dobermans, Hawk, to see her a few weeks later. I was greeted by Jo Ann with a hot cup of Starbucks coffee, and quickly taken into an exam room to meet with Dr. Wheeler. We received excellent service and care. I referred several of my clients to Dr. Wheeler and have received a "thank you" phone call from my clients for referring them to The Whole Pet Vet.
The icing on the cake came when my rat terrier, Lexi, attacked my very old Jack Russell, Daisy who is nearing the age of 14. It was 4:30 in the afternoon. I quickly called Dr. Wheeler's office and frantically gave my name and what had happened. Without hesitation they told me to come straight there. I was greeted at the door by Jo Ann and a very nice vet tech. They took Daisy back and a few minutes later Dr. Wheeler came out to tell me how she was doing and what her treatment approach was going to be.
Daisy's wounds were not life threatening, but her age and her "almost going into shock" demeanor was very unsettling. I knew that Dr. Wheeler would take the best care of her and once again I was right. Daisy is doing just fine now, and I have received and email from Dr. Wheeler checking on her every day since.

It is evident that Dr. Wheeler and her staff really do care. You will not be treated like a number, and you will not feel as if they just want you to open your wallet. They really take the time to get to know you and your pet(s). I am relieved and comforted to know that I have found MY Pet's vet, and will happily recommend anyone that wants A+ care for their pets.
– Robin T
---
I am beyond pleased that Vinnie has been diagnosed and is on a proper course of treatment. I really appreciate your open lines of communication. Finally, I just wanted to say how impressed I was with your new office and your office staff. It's a beautiful office and the staff makes it even more and inviting!
– Melanie Simpson
Wellness
At The Whole Pet Vet, we are committed to maintaining your pet's health at every age.
Learn More
We Have Your Pet's Whole Health Covered