Meet Our Staff
Veterinarians
Dr. Hilary Wheeler
Veterinarian, Certified Veterinary Acupuncturist
Dr. Wheeler is The Whole Pet Vet's leading veterinarian and clinic owner. It has long been her dream to open her own practice. After many years of practicing in busy hospitals and clinics, she realized there was a greater need for a more personalized, family-practice approach to veterinary health care. With the goal of focusing on wellness and disease prevention, as well as providing comprehensive veterinary care for all stages of a pet's life, Dr. Wheeler's vision became a reality. She opened the clinic in October 2009 and offers a full range of traditional and integrative veterinary services.
Practicing in the San Francisco Bay Area since 1998, Dr. Wheeler's focus is on improving animal healthcare options, with an emphasis on wellness, preventative healthcare and strengthening the human-animal bond. Dr. Wheeler received a B.A. in Biology from U.C. Santa Barbara and a Doctorate of Veterinary Medicine from Tufts University school of Veterinary Medicine. She completed her IVAS certification in veterinary acupuncture in 2006. She also completed the Canine Rehabilitation Institute course in 2016 and is actively working on the completion of her case reports to become a Certified Canine Rehabilitation Therapist (CCRT). She is a member of AVMA (American Veterinary Medical Association), CVMA (California Veterinary Medical Association), AAHA (American Animal Hospital Association), AAVA (American Association of Veterinary Acupuncturists) and IVAS (International Veterinary Acupuncture Society). Dr. Wheeler also has a full house. She is married with two children, three rescued dogs and two rescued cats.
Dr. Stephanie Sur
Veterinarian, Certified Veterinary Acupuncturist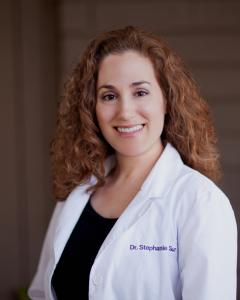 Dr. Stephanie Sur grew up in the Almaden Valley of San Jose. She is a Pioneer High School alumni who then attended the University of California Davis for her undergraduate studies. She earned two Bachelor of Science degrees, one in Medical Microbiology, the other in Neuropsychology. Dr. Sur went on to receive her Doctorate of Veterinary Medicine from Ross University School of Veterinary Medicine in 2003. She then returned to California to practice small animal medicine, and completed her IVAS certification in veterinary acupuncture in 2010. Dr. Sur enjoys all aspects of veterinary internal medicine, and has a special interest in integrative and holistic approaches to healthcare, including acupuncture, herbal medicine and nutritional therapy. She is a member of the AVMA, CVMA, AAVA, AHVMA (American Holistic Veterinary Medical Assoc.), and HSVMA (Humane Society Veterinary Medical Assoc.). Dr. Sur lives in San Jose with her husband and two children.
Dr. Karen Lee
Veterinarian
Dr. Karen Lee is a Bay Area native and completed her undergraduate studies with a B.S. in Biology at San Francisco State University. She has been practicing veterinary medicine and surgery in California since 2009, after receiving her Doctorate of Veterinary Medicine from The University of Minnesota, College of Veterinary Medicine. Dr. Lee has a strong interest in small animal preventative medicine, behavior, dentistry and surgery, and also enjoys working with pocket pets and exotic animal species. Dr. Lee is in the process of completing her certification in Veterinary Herbal Medicine through the renowned Chi institute, allowing her to use an integrative approach in the diagnosis and treatment of her patients. In addition to practicing veterinary medicine, Dr. Lee enjoys traveling and experiencing other cultures- one of her favorite destinations is Hawaii. Dr. Lee, her husband and young daughter share their home with their dog "Ipo," a dachshund mix, and their cockatiel, "Ashton." Her favorite extracurricular activities include yoga, running, crafting and baking. Dr. Lee is an active member of the veterinary community, including memberships with CVMA and the local chapter, SCVVMA.
Dr. Nicole Scripps
Veterinarian
Dr. Scripps grew up in Las Vegas and received her undergraduate degree from University of Nevada in Reno, followed by her Doctorate of Veterinary Medicine at St. Georges University. She completed her clinical year at Louisiana State University in Baton Rouge. We were fortunate to have Dr. Scripps complete an externship with us as she was studying for her California Veterinary Medical Board examination, and are thrilled to have her join our medical team. Dr. Scripps is an active member of the AVMA and CVMA, with a special interest in small animal internal medicine and general soft tissue surgery. Outside of the clinic, Dr. Scripps loves traveling, hiking, reading and fashion. She lives in San Jose with her husband Brandon, her young son Kasen and loveable French Bulldog Reddick. They recently added an adorable pit bull mix to their family named Gigi.
Staff
Jo Cordes Brown
Practice Manager
Jo is our Practice Manager and has worked with The Whole Pet Vet since our opening in 2009. She has over 20 years of experience working in the veterinary field, and is actively involved in many feline organizations. She has a passion for high quality, compassionate veterinary care, and helps to keep our practice running smoothly. Jo and her husband live in Morgan Hill with their 2 Bernese Mountain Dogs and household of happy cats. Look for Jo to greet you with a warm cup of coffee or tea and a pocket full of treats for your pet.
RVTs
Amy Back
Registered Veterinary Technician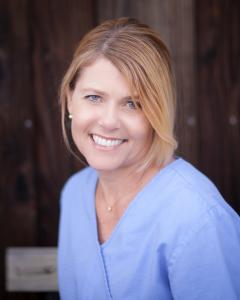 Amy is one of our registered veterinary technicians, and previously worked with The Humane Society of Silicon Valley prior to joining our team. Amy has a special interest in anesthetic monitoring and pain management, and she enjoys working with all species of animals. As a mother of two young adults and a multitude of "furry" children, Amy has a calm, patient manner with both our patients and their "parents!" Amy and her family live in Sunnyvale.
Client Service Representatives (CSRs)
Delia (Dee) Angulo
Lead CSR
Delia comes from many years of experience in the veterinary reception field, and we are pleased to have her working with our top notch office staff to provide you with personalized and friendly customer service. "Dee" works in the front office, ready to help answer questions and be sure your appointment experience goes as smoothly as possible. Dee currently lives in San Jose with her household of dogs and cats.
Veterinary Assistants
Julie Ackerson
Lead Veterinary Assistant
Julie has always been an avid animal lover, and joined our team in 2013 after several years of animal-related experience, including marine mammal rehabilitation, a pet sitting business and working in a veterinary clinic. Julie is now the head of our veterinary assistant team, working closely with our doctors and RVTs to help ensure that our patients receive the best care during their time with us. She is currently enrolled in the CVMA Certified Veterinary Assistant program, the only program of its kind in veterinary medicine.
We Have Your Pet's Whole Health Covered