Posts in Category: Seasonal Pet Care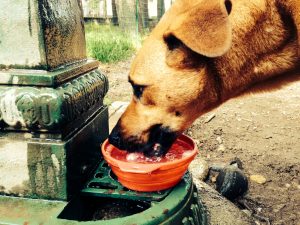 Bonding in the great outdoors is one of the best parts of pet ownership. Whether you're heading out for a hike on the St. Joseph's Hill trail or just playing in the yard, you and your pet can enjoy the beautiful summer weather safely by being prepared.
Keep our summer pet safety tips in mind before you and your pet head out for your next adventure.
Paw Care
Your dog's paw pads are more sensitive than they appear, and hot pavement or concrete can often be too hot for them to safely walk on. A good rule of thumb is: if it's too hot for your bare feet, it's too hot for your dog's. Find grassy and/or shaded areas to walk your pooch, or limit walks to early morning and evening hours when life's just a little cooler. Continue…
We Have Your Pet's Whole Health Covered